Public Development Banks and Biodiversity
26 July 2021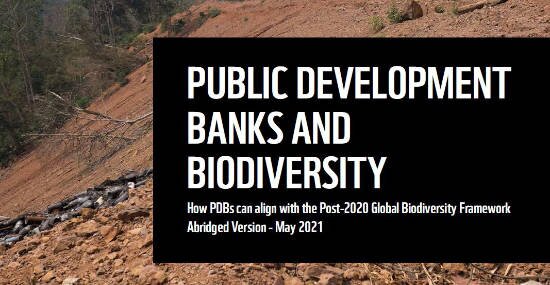 Public Development Banks and Biodiversity: How PDBs can align with the post-2020 Global Biodiversity Framework
Public Development Banks have a unique opportunity to increase direct investments in nature and align with the Post-2020 Global Biodiversity Framework by proactively mainstreaming biodiversity at strategic and political levels.
The Financial sector, including development finance, has a crucial role to play in supporting ambitions for the Post-2020 Framework – reducing harm to biodiversity through upstream planning and safeguards ('greening finance') and scaling up nature positive investments ('financing green'), especially through nature-based solutions.
This new report published by WWF-France summarises a TBC-led study that looked at how PDBs could support greening finance and financing green. It outlines five key actions PBDs can take to shift finance from potentially harmful activities to those which offer nature positive outcomes – as well as outlining the policy, organisational and technical recommendations to make those actions a success.
Interviews with PDBs and subject experts formed a key part of the study and TBC thanks all those who made time to provide their insights and views.
Categories: Finance, Publications, Biodiversity Accounting, Biodiversity Strategy, Performance Standards, Biodiversity Risk and Opportunity
Business & biodiversity
Join our mailing list to get the latest developments in business and biodiversity