&Green: Streamlining investment process with best-in-class net gain framework
&Green is leading a new wave of impact investment focused on nature sustainability within agri-commodity value chains. A blended-finance initiative that invests in commercial projects in the agricultural sector, the private-debt Facility has the explicit aim to protect and restore at-risk tropical forest and peatland landscapes. &Green partnered with The Biodiversity Consultancy to develop a Forest & Biodiversity Net Gain Framework aligned with both IFC Performance Standard 6 and its existing sustainability framework. This science-based investment process puts &Green at the frontier of impact investing, driving credible environmental returns at an international scale.

With its mission to delink major agricultural commodity supply chains from deforestation in a commercially viable way, &Green wanted to expand and refine its sustainability policy by developing a Forest & Biodiversity Net Gain Framework. The new framework needed to ensure, monitor and demonstrate that all projects financed by &Green lead to demonstrable net positive forest and biodiversity outcomes over time.
&Green already applied a robust approach for assessing nature and biodiversity risks in its investments but wanted a way to put IFC Performance Standards into practice alongside its No Deforestation, No Peat, and No Exploitation (NDPE) policy requirement and existing impact framework. A standardised, quantitative process for No Net Loss/Net Gain requirements of PS6 would enable &Green to take a consolidated approach to generating positive biodiversity outcomes.
Designed to demonstrate credible outcomes
To support the design and rollout of an IFC PS6-streamlined investment process, we worked with &Green to develop a biodiversity risk screening system to enable early detection of nature and biodiversity risks – including applicability of No Net Loss/Net Gain and PS6 requirements on supply chains. The screening system categorises a potential deal based on the level of risk using advanced global biodiversity datasets such as the Species Threat Abatement and Restoration (STAR) metric and helps determine the appropriate scope of subsequent due diligence required for potential loan scenarios.
Due diligence plays a crucial role in ensuring the integrity of sustainability-linked investment outcomes, and we designed a standardised approach ensuring high-integrity outputs for all risk scenarios. This due diligence produces quantitative outcome targets and action plans to deliver No Net Loss/Net Gain on the ground, integrating metrics needed to measure biodiversity loss and gains within the process. Robust performance tracking helps ensure outcomes for nature meet the stated goals of the investment.
The new framework provides a streamlined process that integrates supply chain and site-based assessments to maximise &Green's potential to effect change in high-value biodiversity landscapes. Balancing robustness and process efficiency, the science-based approach gives &Green's investors confidence when addressing thorny risks related to historical loss of nature, providing navigation through the technical, social, and political complexities of implementing ESG safeguards in high-risk sectors.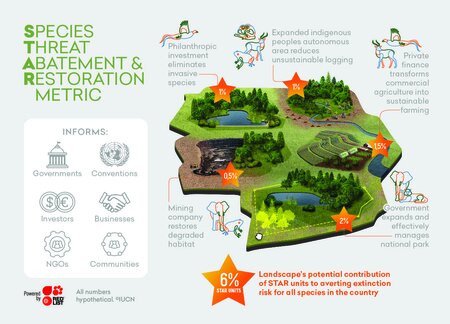 STAR, the Species Threat Abatement and Restoration metric, gives businesses, financiers, investors and governments a practical and comparable tool to quantify how specific actions at specific locations can contribute to global targets on species extinction.